CONFERENCE ON THE BIRTHDAY OF MONGOLIAN CLASSIC BUDDHIST PHILOSOPHER- GAVJ DANZAN-ODSER /1900-2020/
CONFERENCE ON THE BIRTHDAY OF MONGOLIAN CLASSIC BUDDHIST PHILOSOPHER- GAVJ DANZAN-ODSER /1900-2020/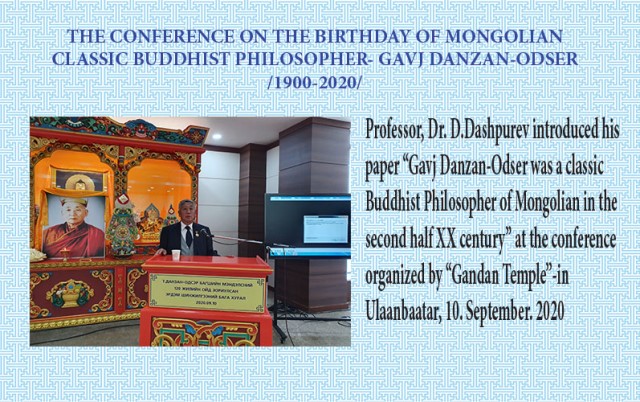 From Conversations with My Teacher
In 1969 when I was young and had so many questions welling up in my mind. I had asked my teacher to tell me his experiences. He recollected that when lamas were taking a break, the investigating officers and the guards forced them to smoke every two hours. It meant lamas were compelled to break their religious oath. It also heightened the feeling of repression by the Dotood Yam on the lamas.
It really caused them a feeling of giddy for having a smoke every day. He further told me that only 4 to 5 Mongolian high lamas survived and many of the wise lamas were killed by the Dotood Yam's investigators in the prisons.
Being an intellectual and a well-informed lama, my teacher Gavji Danzan-Osor /or Odser/ answered to all my questions. Once I asked him "Although many lamas were killed, you survived. Was it because you had a degree of Gavji?" he replied, "It was fortunate. The officer who was investigating me was not a bad man. Once he asked me about why I always told him the truth answered quietly that I would tell him only the truth. He continued asking me and said, "Who told you to tell only the truth?...", "After this conversation with the officer, I came to understand what a revolution is about and who is a revolutionary".